Kenjo font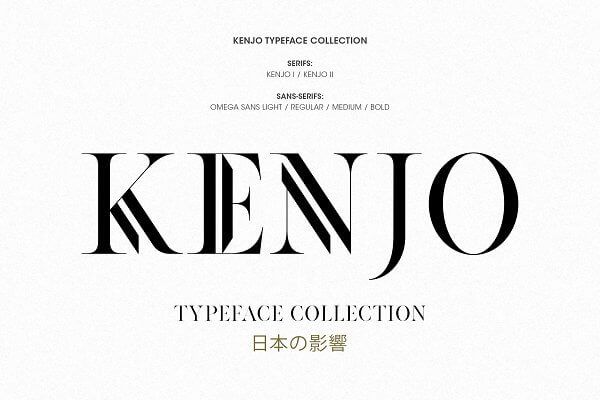 Kenjo I & II is a Display font collection, with Japanese/Art Deco influence. Completely uppercase (currently), it houses the standard more versatile Serif (Kenjo I), along with a high fashion, stylized option (Kenjo II). Ideal for professional logos, sharp displays, magazines, blog titles, wedding invitations, social media and print.
Omega Sans is a Classic Sans-Serif Font Family (4 Weights), and a great accompaniment to Kenjo for Sub-Headings and Sub-Text. Both are Multilingual with 80 languages Latin-based support. Full Character Map available soon.
Optimized with minimal vector nodes and perfect geometric Bézier curves for a sharper more refined finish.
Includes:
OTF + TTF files
Kenjo I + Kenjo II
Omega Sans (light, regular, medium, bold)
Numbers + Punctuation
Extended Non-English support (80 language support)